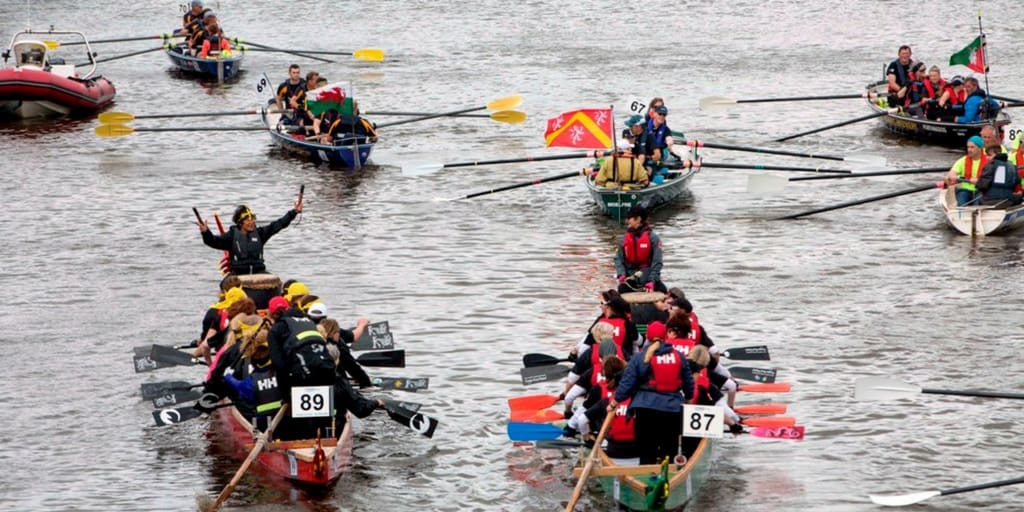 June 2, 2018




14:30 - 21:00
With Meitheal Mara.
Ocean to City – An Rás Mór is the biggest festival event in Cork Harbour attracting over 600 Irish and International participants crewing 200+ craft. From the many vantage points along the harbour race route you can experience this spectacular and colourful fleet, featuring everything from traditional wooden boats, currachs, gigs, Chinese dragon boats, kayaks and even stand-up paddle boards. Enjoy Ireland's premier rowing event along with free family
entertainment, food and music.
See below the round-up of festivities you can enjoy on Ocean to City day!
Race ROUTE: (approx. times):
14:30 Crosshaven
15:00 Cobh
15:30 Monkstown
15:45 Passage West
16:00 Blackrock
16:30 Lapp's Quay, Cork City
Join us and experience Ocean to City at the following events and locations along the route:
COBH:
12:00-15:00 Cobh Chowder Cook- Off!
With Cobh & Harbour Chamber & Summer Swing, The Promenade, Cobh.
Come along to the Promenade in Cobh and get your fill of delicious chowder before you cheer on the Ocean to City participants as they race by! Hotels, restaurants and other food providers will be cooking up a storm to ensure you rate their chowder as the most delicious. FREE
14:00-14:30 Irish Coast Guard Rescue Helicopter Demonstration.
The Promenade, Cobh.
Watch our coastal heroes in action as they carry out a rescue demonstration combining use of the Coast Guard Helicopter from Waterford, the Crosshaven Coast Guard Boat and the RNLI inshore Life Boat. An impressive training exercise not to be missed!
Message from the Irish Coast Guard (ICG): We urge people to take care in, on and around the water this summer. Our 'Stay Afloat – Stay in Contact' message underpins the concept that if you wear a lifejacket/floatation device and can raise the alarm, then you stand an excellent chance of being rescued. Remember if you or someone else does get into trouble, call the Coast Guard on VHF Channel 16 or dial 112 and ask for the Coast Guard. FREE
15:00 Cobh Cheers.
With Cobh Tourism in association with Cobh Animation Team, The Promenade, Cobh.
Give a warm welcome and encouragement to the participants as the Ocean to City race powers past Cobh. Cobh Animation Team will turn out in style while live race commentary and a DJ will add to the spectacle. FREE
CROSSHAVEN:
12:00-16:00 Crosshaven RNLI Lifeboat Station Open Day.
The Crosshaven RNLI crew will be on hand to explain the lifeboat and station operations, and give an insight into the important work of the RNLI. Also, a great vantage point to watch the Ocean to City start line! All children must be accompanied by a parent or guardian. FREE
CORK CITY & HARBOUR:
14:15 Harbour Pedal.
With Cork Cycling Campaign. Meet at Lapp's Quay, near Café Gusto Cork City.
Bring your bicycle and a picnic and join this scenic cycle to the Passage West Picnic in the Park. Get to see the action on the water and follow the Ocean to City race as the boats travel into the city to the finish line. Approx. 1 hr cycle along a designated cycle track. FREE
PASSAGE WEST:
15:30-17:00 Picnic in the Park.
Gather along the shoreline for the Picnic in the Park and watch the Ocean to City race unfold from this prime vantage point with live commentary. FREE
CORK CITY:
15:30-19:00 Festivities @ The Finish!
Lapp's Quay and Port of Cork.
Immerse yourself in the colour and excitement of the finish line and welcome the participants as they complete this spectacular and gruelling race. With live race commentary from Cork's 96FM, food stalls, street performances, balloon artists, DJ, drummers and much more! FREE
20:00 Prize Giving Ceremony.
Clayton Hotel, Lapp's Quay. FREE
21:00 Hang Up Your Oars! After Party.
With Naomhóga Chorcaí. It's time to splice the mainbrace, regain your land legs and unwind! Make merry with music, drinks and the infamous blister competition. Venue to be confirmed. FREE
To participate: oceantocity.com
FREE to spectators.